Valproic Acid
Valproic acid (VPA) has been used in the treatment of epilepsy for almost 30 years. The compound has recently been shown to have activity as HDAC inhibitor.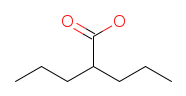 IUPAC Name: 2-Propylpentanoic acid
Molecular Weight: 144,22 g/mol
Molecular Formula: C8H16O2
SMILES: CCCC(C(=O)O)CCC
Canonical SMILES: CCCC(CCC)C(=O)O
InChIKey Identifier: NIJJYAXOARWZEE-UHFFFAOYSA-N
CAS Number: 99-66-1
Melting point: 220°C
Solubility: very soluble in organic solvents
2D Molfile: Get the molfile
Synonyms: Dipropylacetic acid, VPA, myproic acid
Valproic acid inhibits both class I and II HDACs, with a high potency for class I HDACs. Valproic acid inhibits HDAC activity in vitro, most likely by binding to the catalytic center of HDACs. More importantly, valproic acid induces differentiation of carcinoma cells, transformed hematopoietic progenitor cells and leukemic blasts from acute myeloid leukemia patients.
References:
1) Kuendgen et al. The Histone Deacetylase (HDAC) Inhibitor Valproic Acid as Monotherapy or in Combination with All-Trans Retinoic Acid in Patients with Acute Myeloid Leukemia. Cancer Volume 106 Issue 1, Pages 1-235.
2) Gottlicher et al. Valproic acid defines a novel class of HDAC inhibitors inducing differentiation of transformed cells. EMBO J. 2001 December 17; 20(24): 6969–6978.
3) Atmaca et al. Valproic acid (VPA) in patients with refractory advanced cancer: a dose escalating phase I clinical trial. J Cancer. 2007 July 16; 97(2): 177–182.