MGCD0103
MGCD0103 (Mocetinostat) is an isotype-selective HDAC inhibitor, which primarily targets human HDAC1 and HDAC2 enzymes with weaker inhibition of HDAC3 and HDAC11 and does not inhibit HDAC4, HDAC5, HDAC6, HDAC7 or HDAC8.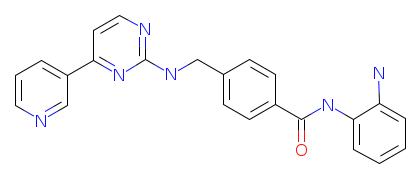 IUPAC Name: N-(2-aminophenyl)-4-[[(4-pyridin-3-ylpyrimidin-2-yl)amino]methyl]benzamide
Molecular Weight: 396,46 g/mol
Molecular Formula: C23H20N6O
SMILES: Nc1ccccc1NC(=O)c(cc4)ccc4CNc2nccc(n2)-c3cccnc3
Canonical SMILES: C1=CC=C(C(=C1)N)NC(=O)C2=CC=C(C=C2)CNC3=NC=CC(=N3)C4=CN=CC=C4
InChIKey Identifier: HRNLUBSXIHFDHP-UHFFFAOYSA-N
CAS Number: 726169-73-9
Melting point: n/a °C
Solubility: : soluble in DMSO
2D Molfile: Get the molfile
Synonyms: Mocetinostat; MGCD-0103
MGCD0103 has been evaluated in multiple Phase I and Phase II clinical trials in both solid tumor and hematological cancers and has demonstrated both single-agent and combination activity.
References:
1) Marielle Fournel, Claire Bonfils, Yu Hou, Pu Theresa Yan et al. MGCD0103, a novel isotype-selective histone deacetylase inhibitor, has broad spectrum antitumor activity in vitro and in vivo. Mol Cancer Ther 2008;7(4).
2) Daniel Riester, Christian Hildmann, Andreas Schwienhorst. Histone deacetylase inhibitors - turning epigenic mechanisms of gene regulation into tools of therapeutic intervention in malignant and other diseases. Appl Microbiol Biotechnol (2007) 75:499–514
3) Tan J, Cang S, Ma Y, Petrillo RL, Liu D. Novel histone deacetylase inhibitors in clinical trials as anti-cancer agents. J Hematol Oncol. 2010 Feb 4;3(1):5.