LBH-589
LBH-589 is a hydroxamic acid based HDACi with a structure similar to vorinostat. It is in phase I clinical trials for cutaneous T-cell lymphoma as an oral agent. It has a longer half-life than vorinostat.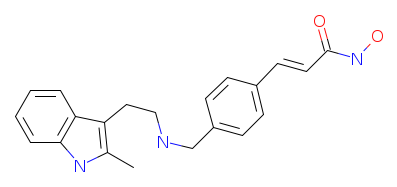 IUPAC Name:
(E)-N-hydroxy-3-[4-[[2-(2-methyl-1H-indol-3-yl)ethylamino]methyl]phenyl]prop-2-enamide
Molecular Weight: 349,44 g/mol
Molecular Formula: C21H23N3O2
SMILES: ONC(=O)C=Cc3ccc(cc3)CNCCc1c2ccccc2nc1C
Canonical SMILES: CC1=C(C2=CC=CC=C2N1)CCNCC3=CC=C(C=C3)C=CC(=O)NO
InChIKey Identifier: FPOHNWQLNRZRFC-ZHACJKMWSA-N
CAS Number: 404950-80-7
Melting point: n/a °C
Solubility: : soluble in DMSO
2D Molfile: Get the molfile
Synonyms: LBH-589; LBN-589; LBH589; Panobinostat, NVP-LBH589
In vitro Panobinostat induces cell cycle arrest and apoptosis through both caspase dependent and caspase independent pathways in various tumor cell types at nanomolar concentrations. In vivo LBH-589 inhibits tumor angiogenesis as evidenced by blocking new blood vessel formation in human prostate carcinoma cell PC 3 xenografts.
References:
1) Qun Zhou, Peter Atadja, Nancy E. Davidson. Histone Deacetylase Inhibitor LBH589 Reactivates Silenced Estrogen Receptor Alpha (ER) Gene Expression without Loss of DNA Hypermethylation. Cancer Biology & Therapy 6:1, 64-69, January 2007
2) Milos Dokmanovic, Cathy Clarke, and Paul A. Marks. Histone Deacetylase Inhibitors: Overview and Perspectives. Mol Cancer Res 2007;5(10)
3) Patricia Maiso, Xonia Carvajal-Vergara, et al. The Histone Deacetylase Inhibitor LBH589 Is a Potent Antimyeloma Agent that Overcomes Drug Resistance. Cancer Res 2006; 66: (11).